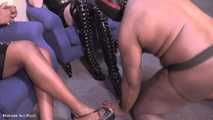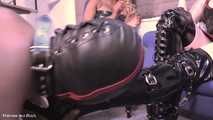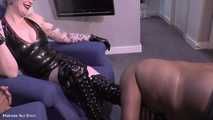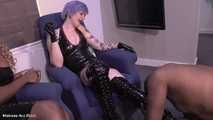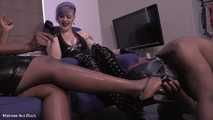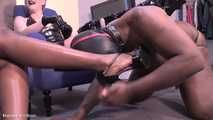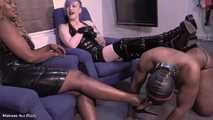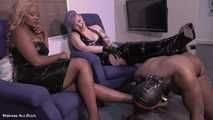 Worshipping shiny Mistresses' shoes - Full clip
Includes Lady Valeska - boot domination - high heel worship - double domination - boot kissing - foot domination - foot worship - shoe licking - foot fetish - femdom - foot slave training - female domination
Featuring: Mistress Ava Black and Lady Valeska
slave is called in to worship his Mistresses' boots and shoes. He must kiss the shoes in greeting before getting down to kiss and lick Lady Valeska's boots according to her command.
His efforts are mediocre at best. Mistress commands him to do better. Since his hands are pathetic at the job at hand he must use his cock and balls to dry hump Lady Valeska's boots until they sparkle! After all a good shoe shine boi must use ALL the tools available to him!
He works away as frantically as he can to please both Mistresses. Now he worships Mistress Ava's shoes. But as you can well imagine the saying that man cannot serve two Masters applies to Mistresses as well. Because in order to please one the other becomes irritated with him and wants to hurt him.
And we know that when Mistresses get irritated they make good on their promise to hurt him. These heels that the slave loves so much dig into his delicate flesh as Mistresses relax on their chairs and hurt him with ease.
The slave complains too much! So Mistress Ava decides to sit on his face to shut him the fuck up while Lady Valeska stamps in his nuts with her heavy platform boots. Stomping and kicking his balls is lots of fun for these two as they delight in rearranging his anatomy with their shoes. What fucking sensitive things balls are! Mistresses love to warm them up and batter them about with their gloved hands. The slave's howls for mercy are only music to their ears as they show him beyond a shadow of a doubt just who's in charge! Girls run his balls! And these two demand respect as he has to thank them afterwards for pounding on his nuts hahaha
Show more