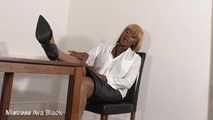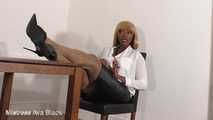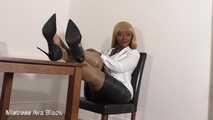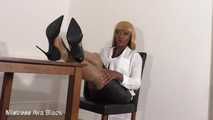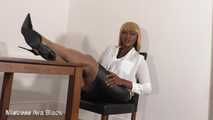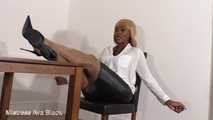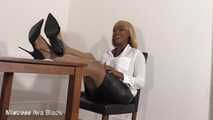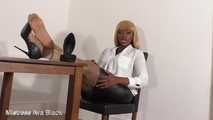 VP of my Feet!
Includes - foot domination - high heel fetish - female domination - femdom pov - bratty femdom - verbal humiliation - foot slave training - ebony female domination - ebony
Ava's father owns the company that you work for. You had been told that she was going to be joining the team in an unofficial role.
Still, you were surprised that she has been given free run of the place and a bigger office than yours. After all you are the Vice President. Still, you humour her when she calls you into her new office for a quick chat.
When you enter the room she is her usual snobby self. She hardly acknowledges you as she launches into what she has been looking at in her new role as the 'unlisted' Head of Operations. She informs you that the losses she blames on you from the last few years have been really eating into her spending allowance and you are fired with effect from today!
Your jaw hits the floor at record speed and you are livid!
She cuts you off, laughing and waving off your beetroot red angry face. She has been doing some research and she wants to keep you on as her PA. Her PA?!?! You are beside yourself with anger! But she is going on. She has hired a Private Investigator who managed to dig up some dirt on you. That unfortunate internet trail you've left behind when you visit foot fetish sites is coming back to bite you in the butt!
She fully intends to take that information public if you don't graciously resign and take up the new post of being her PA. What's more, as her PA you are going to be spending all your working hours here in her office as her personal shoelicker and footslave. She can't believe her luck that she would find someone who could massage her feet and ankles and teach her how to run the company all in one fell swoop.
Her expression is triumphant and evil as she looks right at you. She can tell you are defeated. She wants you to practise your new job role now. On your knees under her desk so you can get to licking and worshipping her pantyhose. She wants to unroll her pantyhose and make you eat them while you contemplate your future. She laughs and humiliates you the whole time you are doing as you are told.
Your new VP seems to really relish prancing up the pole of success as she declares that you are going to spend all your days either worshipping her shoes or her pantyhose from now on.
Show more