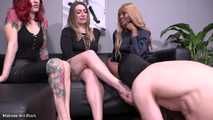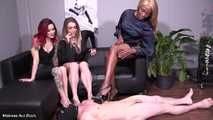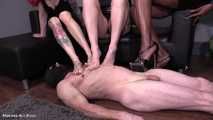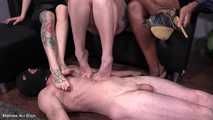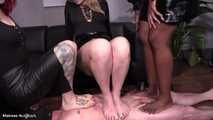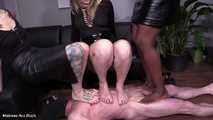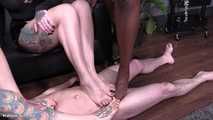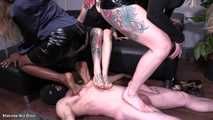 Trampling Fatal Attraction - Full clip
Includes Ava Austen - Mistress Adreena - triple domination - interracial domination - trampling - CFNM - verbal humiliation
Featuring: Mistress Ava Black, Mistress Adreena, and Ava Austen
A simple theory... can a slave take all the weight of 3 Dommes at once?
Today Mistresses are going to find out for themselves.
Starting with some indulgent foot worship. But this very quickly turns nasty when he has to endure being trampled by 2 pairs of bare feet while a pair of vicious high heels dig into his soft flesh!
Mistresses want to see if they can walk all over him - literally! Greedy bitches! They won't take it one at a time. They want to be on top of him all at the same time! All over his cock, all over his nipples... Wherever it hurts the most.
Now they want his cock to get hard!
After all with those gorgeous arses hovering over his face he should have wood for days! The strength of his wood is not pleasing to them. So they sit on his face one at a time. Mistress Ava stuffs her knickers into his mouth for the added humiliation before riding his face with no underwear on!
A fitting end to the desperation that is a heavily trampled slave!