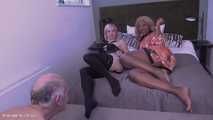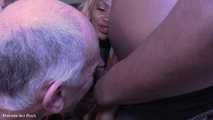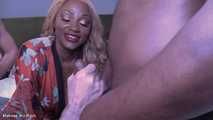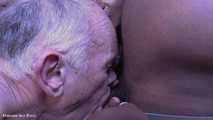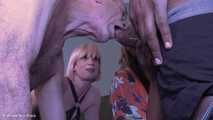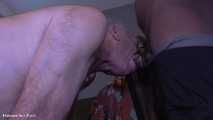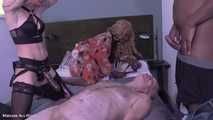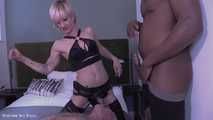 The grossest spit-roast EVER! - Full clip
Includes strapon - CFNM - desperate slave - cumslut slave - total loser - interracial domination - female domination - bbc black cock - slave training - cocksucking - chastity male - verbal humiliation - pegging
Featuring Mistress Ava Black and Luna Toxxxic
No one is as fucking useless as this slave who will do abso-fucking-lutely anything to please!
Aaargh!
The nasty fucker does not amuse or excite his Mistresses in any way. So they bring in someone else who will tear him some new holes. After some light entertainment where they make him compare his roadkill teeny weeny peepee to a real man's cock they push grub slave even further by making him bow down and worship at the shrine of a real man's cock.
Obviously he's awful at jerking off a real cock so he has to train on a superior Master cock. He's got to take that cock in his little whore mouth and deepthroat it good if he's going to please his Mistresses!
Mistresses revel in riding his mouth hole hard and making him gag on their meaty cocks....
"Now beg Step-Daddy for his cock! Tell him how much you want his cock inside you..."
Humiliation and degradation pour upon the slave as the slave gets annihilated by three long dongs! His hungry holes are wide open for businesses and all three Tops deep-dive into him, taking it in turns to turn him into a right slag!
And to prove what a worthless piece of ish he is the slave is made to suck his own arse as Mistresses ass to mouth him!
No fucking mercy for clean up whores like him!
Show more