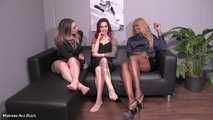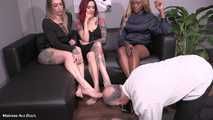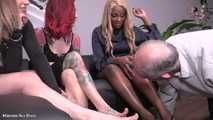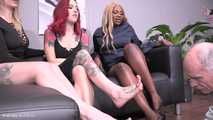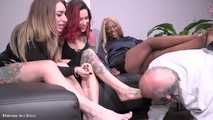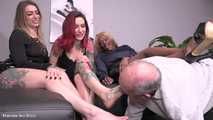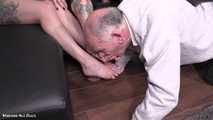 Sugardaddy pedicure - Full clip
Includes triple domination - Mistress Adreena - Ava Austen - female domination - barefoot - foot humiliation - foot slave training - sole licking - foot domination - humiliation - foot humiliation - older man/younger women - high heels - spit fetish - spitting - hand trampling - findom - financial domination - femdom - slave training - female domination
Featuring: Mistress Ava Black, Mistress Adreena, and Ava Austen
Sugardaddy's been slacking with his pocket money payments. Ever since he started off as a sugardaddy he's been trying to get some tail from any of the ladies. But of course he's not worth anything but the pennies in his pockets!
And right now he's failing to cough up even the money for the ladies to go out for lunch! So he's going to get the punishment of a lifetime! Mistress Ava spits in his face! And orders him onto the floor to lick the soles of her heels. He must suck on them like they're a cock. After all his cock is fucking useless!
Then he has to move on to Mistress Adreena's soles and nibbles the rough skin from under her feet!
He's really having a tough time of it. When Mistress Adreena's foot rams its way to the back of his throat he can hardly manage to take it all in. Overwhelmed is the best way for losers to be! After all he's failing in the wallet department so he has to make up for it in other ways!
First Mistress Adreena, then Ava Austen's feet rearrange his mouth hole. And his undeserving cash strapped hands are trampled by Mistress Ava's high heels! She tramples him full weight until he howls for mercy!
But there will be none! Not for a broke arse loser like him!
Show more