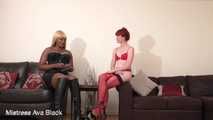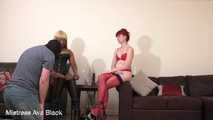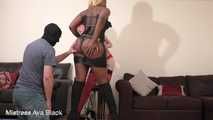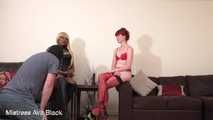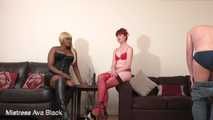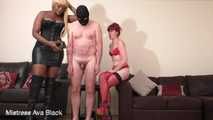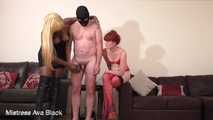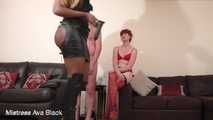 Spaghetti cocks don't grow
Includes female domination - domestic domination - double domination - pussy power - CFNM - ass shaking - big butts - ass worship - arrogant woman - female supremacy - slave training - verbal humiliation - smacktalk
Mistresses Ava Black and Kitty Bliss are catching up after a day of work. Mistress Ava's slave has just finished his cleaning duties. She recently caught him getting changed after his cleaning and was surprised to see he had a tiny little willie!
She couldn't believe it! He'd always told her that he had raging hardons for her! She can't understand what sort of rage a tiny todger could possibly have had...
Miss Kitty doesn't believe that the slaveboi has such a tiny one and she wants to see this for herself. So of course they must call the slave in for a closer inspection!
Undressing him down to naked brings a shock! And not a nice one... as they see his little spaghetti cock desperately throbbing and leaking all over the floor! How disgusting! They make him touch it so that it grows to its longest. Will it be as long as their cute she-cock? Watch and find out...
Show more