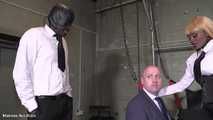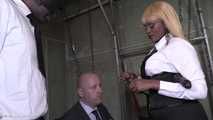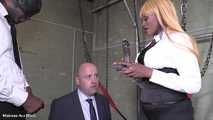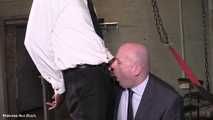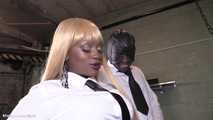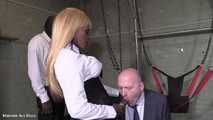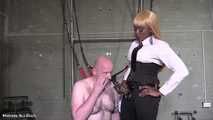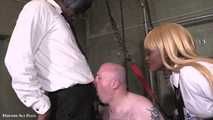 Seal the deal - Full Clip (Parts 1 to 5)
Includes - male domination - make me bi - adult role play - blackmail fantasy - supremacy - manipulatrix - male cocksuckers - verbal humiliation - face slapping - CFNM - ebony domination
Bumbling idiot!
He'd been so busy trying to pitch Ms Black and Mr Manpole for his career-changing deal that he hadn't noticed the looks they had been passing each other. If he had been more observant he would have noticed the winks they exchanged right before they asked him all the awkward and confusing questions that had left him sweating and petrified that he was about to lose his company this major deal!
He would also have been more surprised when they told him that they needed a man who was willing to do whatever it took to get ahead. No matter how bizarre.
But all he had heard was what he wanted to hear. And he really wanted to win! So he had nodded eagerly. Even as they explained that they did things differently. That they had a 'ritual' that had to be obeyed. He should have known better.
But he didn't.
And now here he was. In this BDSM sex Dungeon. About to find that it took a whole lot to seal the deal!
It takes a special sort of fool to swallow what this guy will.
But swallow he did.
After all it doesn't matter how you get the deal done. All that matters is the result.
So he puts his back into giving a good blowjob to his new business 'associates'. After all they want to know that he has what it takes to go all the way. That's the kind of man they need!
What's that look like? You look like a loser to us...
When we saw you we knew you were just what we needed! A loser who will do anything to get where we need him to be. It didn't take long before you were on your knees sucking cock like the loser you are.
Now tell him how much you want him in your whore mouth!
Ms Black and Master ManPole are delighting in making this loser suck cock. In fact they tell him they want him to suck not just one but several cocks for them from now on! Their conditions of work are incentive driven. The more cock he sucks the more money they will release to him.
And judging from the pathetic size of his own dick he's going to suck on real meaty ones for a long time!
Never ever think for one second you can be faster or smarter than either of us!
Loser boi is now working for his new 'owners' on the deal. His salary has been whittled away to nothing because even though he has a wage he has to pay reparations to his Ebony owners!
He thought he could get away with living life like before when he didn't have a care in the world and is spending his money recklessly again. So it's time to whisk him back to the Dungeon for a behaviour adjustment! slap slap slap!
One after the other he is mercilessly slapped stupid!
He is reminded that he now works under their command. In fact he should now start addressing them as Master and Mistress as they think this is a more suitable term for them. Slap slap slap!
What does he think he can do to start saving more money to serve his new owners?
That's right! A diet full of cum will make him lose weight and save loads of cash for them to spend as they see fit. Beg Master for his cum! Tell him how much you wish you could have his cum for every meal from now on...
Good boi…
If your penis can understand the fucking deal then why can't you?
'Mistress' tugs his loser cock, telling him off for not complying with the rules. He must beg for Master's cock every single day. Beg properly, not pretend to beg. Failure to convince Mistress will only make life harder for him!
The look of desperation in his eyes is clear as Mistress has his cock and balls in her hands. She tugs his cock, she will dick punch him if he doesn't beg to her satisfaction. He needs to get to begging, and begging good...
Or he's gonna pay and pay good!
Show more