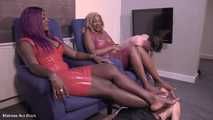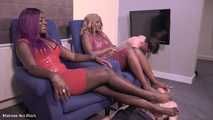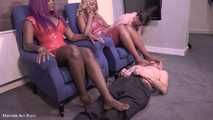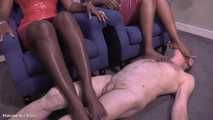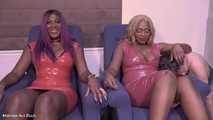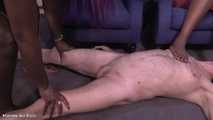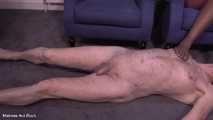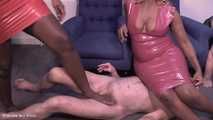 Pummelled by our feet - Part One
Includes Mistress Lorraine - ebony female domination - interracial domination - ebony foot fetish - foot worship - foot domination - foot slave training - extreme domination - CBT - ballbusting - trampling - ebony ballbusting - high heel ballbusting - ball kicking - latex dress - rubber fetish - double domination - femdom - slave training - female domination
Featuring: Mistress Ava Black and Mistress Lorraine
Nothing is more relaxing than catching up with evil Femdom friends. Having a good footstool slave is a big part of that. And this reliable fucker offered himself up for whatever we would find most amusing.
Well, we started by making him take all his clothes off. A good footstool he might be, but we wanted to fuck him up just a little bit. Stomping down on his cock and balls was a good start. After all those pellets won't be any use to anyone. Just an amusement for us to fuck around with.
And more fun than stomping on his nads is kicking them! Hard as she can! Mistress Lorraine gives them a good pummelling. The slave's cries of agony only spur her on to increase the hurt! She puts her vicious sharp stiletto heels on. They will make for better ballbusting. Whack! Whack! Whack! She catches her heel! Haha!
Mistress Ava Black wants a go. Or more specifically she wants to do a running jogging kick on the slave's cock and balls as she sits in the chair. The slave is literally singing in agony as she tramples and squashes him as hard as she can! Delicious Femdom fun not to be missed!
Show more