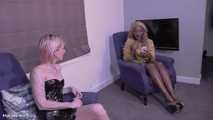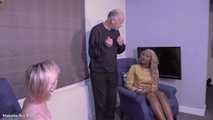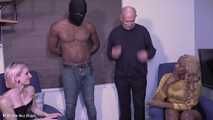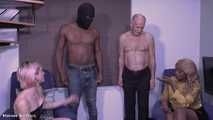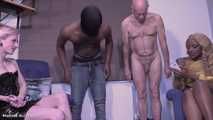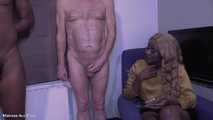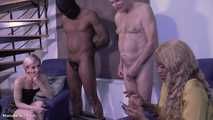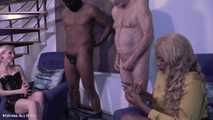 Performance based rinse - Full clip
Includes Luna Toxxxic - findom - financial domination - humiliation - verbal humiliation - size comparison - muscle comparison - bbc - rinsing games - challenges - loser humiliation - wallet drain - paypig training - CFNM - double domination - femdom - slave training - female domination
Featuring: Mistress Ava Black and Luna Toxxxic
Mistresses want to go shopping on their slaves' credit cards.
But to make it fair the slaves must compete to win. The one who loses each round has to surrender a card for Mistresses to go shopping in town.
In round one the slaves have to take off their tops and compare muscles.
Then in round two they have to drop their trousers and show the Mistresses what they're working with. The bigger man will win - quite literally in both of these rounds!
Round 3 commences and grub has failed so miserably at the first two Mistresses are in a kind mood. He can redeem himself if he can at least get his cock as hard as slave one. slave one stands there and his big black cock is hard as a rock. Ready for action and winning the comparison stakes with ease!
grub strokes as hard as he can, but his shroom cock remains as weak as ever! Looks like his credit card is making its way into the rinse trail.
Maybe it's his technique that's wrong. So Mistresses throw in a bonus round just for him!
If he can jerk off slave one to completion then he has a chance to win too. So off he goes, pumping hard as he can! His technique is pathetic, his efforts useless. slave one is remarkably underwhelmed. But will grub get him to cum?
Watch and find out if round 4 will be the one in which he finally redeems himself?
Show more