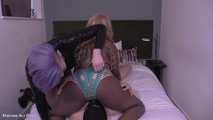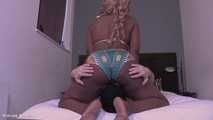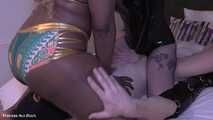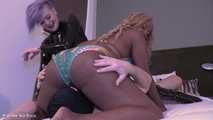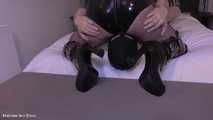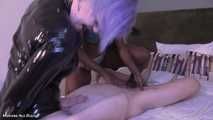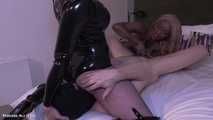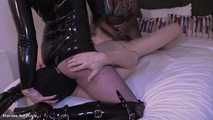 Hungry ass muncher - Full clip
Includes double domination - Lady Valeska - face sitting - face riding - ass worship - oral sex slave - ass worship - ass smothering - big butts - CBT - dick slapping - harsh handjobs - latex leotard - fishnet stockings - bikini - big arse - ass grinding - ass shaking - CFNM - femdom - slave training - female domination
Featuring: Mistress Ava Black and Lady Valeska
Hungry little ass muncher.
Dirty little perv.
He walked into this session with his cock rock hard and aching. He was desperate to be nestled beneath our divine Goddess arses. Loves big arses and shiny things! Mmm we have a juicy jiggly combo that would blow his mind from here to Timbuktu!
We take it in turns to ride his face hard! He bucks back and forth but we don't let up! He's all ours and there is no denying us what we want! And when Mistress Ava grabs his cock and starts jerking him off it's about all he can do to stop from cumming all over the bed!
Teasing and scratching turns to dick slapping! Hard slaps and teasing strokes of his cock. Pleasure intermingles with pain as we toy with him for their amusement. We shove his face into our juicy arses and ride him good! He hangs on tight! Our delicious scents overwhelm him. Our power over him is complete. He couldn't fight it if he tried!
We make him lick the sweat from our ass cracks. Can he taste how cum-pletely owned he is now?
Show more