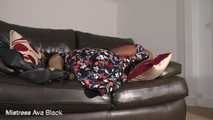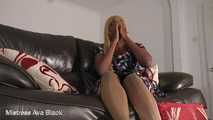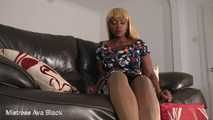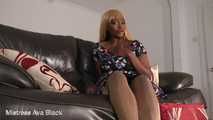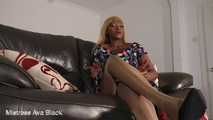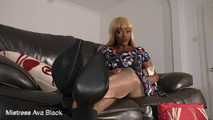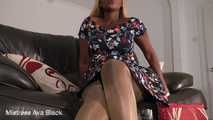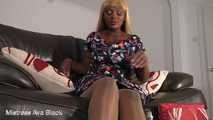 Cum for mommy's feet
Includes - mommas boy - foot fetish - taboo - foot fetish - pantyhose fetish - pov female - cock tease - foot worship pov - foot worship instructional - foot domination - JOI - masturbation encouragement - older woman - milf - ebony milf - ebony
Lately you've had a very bad habit.
Ever since you can remember you have had a thing for feet. You love seeing them, but especially in shiny pantyhose. The more curvy the legs the better. You just don't know why but every time you see them your cock twitches and you know you have to rush off somewhere to pump a happy load in appreciation.
Your stepmom dresses very conservatively. Which a lot of people would find pretty boring, but then she seems to love wearing shiny pantyhose. All the time it seems! You tried for the longest time to resist touching yourself to this but one day you let your guard down and jerked off in the downstairs bathroom while she was making dinner. It was the best load you'd ever shot!
And from then you'd been waiting patiently for whenever she took her afternoon nap. She would nap without fail for an hour or so whenever she came back from a morning with her friends. While she napped you'd kneel close enough to smell those beautiful legs while you blew your load. Being so close that you could almost touch them was agony for your mind but your dick knew that was where it wanted to be. You knew you could get caught but every time was better than the last. You were hooked!
It was during one such nap that you snuck into the living room again. She was in closed shoes, and you crept closer and closer until you could just smell that musty tasty funk coming from her soles. Your cock was rock hard and you pumped frantically away. She stirred in her sleep, making your dick jump with excitement and fear. You could feel your balls pulling in as you inched closer and closer to your stepmom's feet. Angling your dick as close to them as you could, your palms sweaty and excitement coursing through your veins...
You could feel yourself about to cum...
And then she woke up!
You rushed to push your cock back into your pants but it was too late! She had seen what you were up to and she was beside herself! She could tell what you had been up to and was panicking! What was she going to tell your father?!? The shock on her face was clear.
You blurted it out before thinking about it. Maybe she didn't have to tell your father. Maybe it could just be your little secret. You could massage her feet in exchange for smelling her feet maybe?
Shock turned to slow acceptance and a smile passed her lips. Well your father didn't do much in the way of massage, and once you demonstrated how good you were at massage she seemed to loosen up a bit. But then her next words blew your mind (*and nearly your load*). She actually wanted to put her feet on your cock, so you could feel the fabric as you stroked your cock against her feet.
You couldn't believe your luck!
Show more