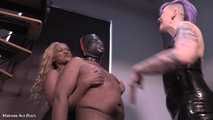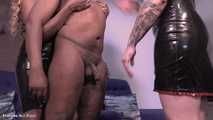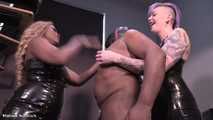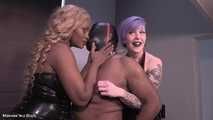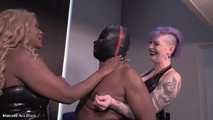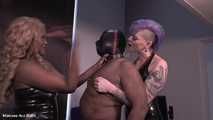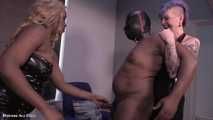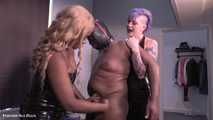 Beat him the fuck down! - Part Two
Includes Lady Valeska - nipple play - face slapping - nipple play - spitting - spit fetish - scratching - CBT - ball punching - body punching - belly punching - kicking - extreme domination - scratching - leather mask - gimp slave - latex dress - latex gloves - rubber fetish - beatdowns - cruel femdom - double domination - femdom - slave training - female domination
Featuring: Mistress Ava Black and Lady Valeska
The slave has to say both Mistresses' names each time they slap him!
Valeska. Ava. Valeska. Ava.
Over and over again as they hurt his face. First Lady Valeska slaps him then Mistress Ava Black jumps in. Harsh slaps on his face making him groan and grimace in pain. His sensitive nipples feel every part of their attention but no mercy is shown to his nipples or his face.
Then Mistress scratches his body deep and hard with her nails, leaving deep welts on his skin. And just when he thought the pain was over they go back to slapping him and spitting right into his face! Humiliating degrading punishment! More than he deserves!
Show more