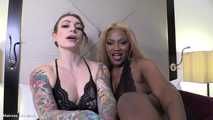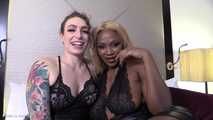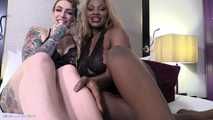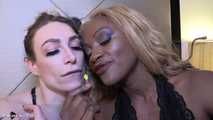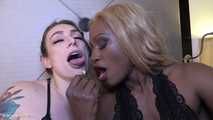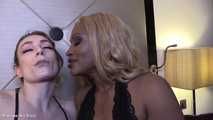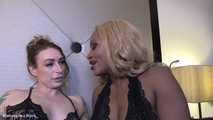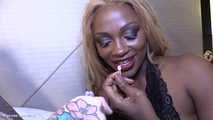 A tiny treat for two escorts - Full clip
Includes giantess - vore - magical shrinking - mouth fetish - pregnant - shrinking fantasies - mean giantess - adult role play - pov vore - swallowing pov
Featuring Mistress Ava Black and Ava Austen
You've booked yourself in for a treat today.
Work has been extra hard so you figure you deserve a threesome to start your weekend off right. The cappuccino duo you saw online looks like it would rock your world. And they're both called Ava?
You're literally dripping with lust when you knock on the door and are ushered into the comfortable hotel room.
A nice whisky calms your nerves and eagerness to jump right in. The ladies want to talk, so you humour them. A little bit of foreplay before you Tarzan this show. Your heart is racing so hard and the wood in your pants is so strong you don't hear what they're saying at first. But they're telling you that they're not here to fuck. They slipped a shrinking potion into your whisky and now that you've necked the lot you're going to be their little plaything.
You try to run away but already you feel your limbs shortening, the room growing and expanding around you. And then you are in their hands.
Dangled on first one, then the other Ava's tongue... you are starting to get the impression that this will be your last escort booking.
The evil intent in these two's eyes is clear, and you feel their breath hot and horny as they pass you between each other. You had hoped you would find yourself in their mouths at some point tonight. But not like this!
The two giantesses are talking now. They love that tinies are jam-packed with protein!
And the Avas are horny as fuck thinking about how delicious tinies taste sliding down their throats. Fighting desperately to save themselves from sliding down the backs of their throats!
Teasing them with their now monster tits, sympathy is in short supply with these two. Those meaty lips want to open wide and just swallow them right up!
Men should be careful when they beg to be fucked like they've never been fucked before! Because as this little tale comes to a delicious end they will realise that they are well and truly FUCKED!
Show more