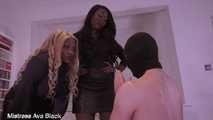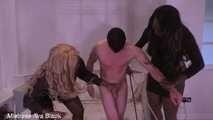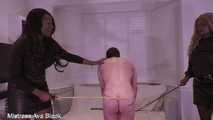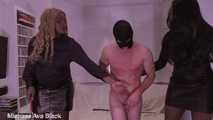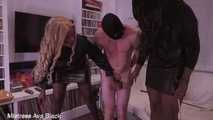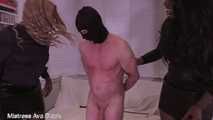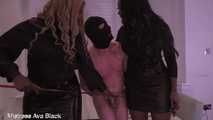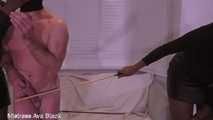 Your wife sent us - Full clip
Includes double domination - ebony female domination - Mistress Foxx - female domination - female supremacy - face slapping - verbal humiliation - nipple play - caning - cock caning - extreme domination - foot worship - foot domination - foot fetish - trampling - pantyhose domination - shoe worship - high heels - scissorhold - head scissors - spitting - spit fetish
Mistresses Ava Black and Foxx received communication from this guy's wife. He had been caught cheating. But like the true cheating liar that he was he had tried to get away with it.
But he had been truly snared and now his wife was threatening divorce. He begged for mercy, and the only compromise she was willing to give him was that he visit 2 Dommes to set him straight and make sure that he didn't do it again.
So he found himself on his knees begging to receive whatever punishment he deserved.
And believe me these Mistresses believe he deserves a lot of punishment!
He gets slapped about, his nipples are scratched and slapped, and his cock is slapped and punched like the useless cheating flap of meat that it is! And just to make sure that he never uses that cock to cheat with again they cane it hard and good with their heavy canes!
Then Mistresses cane the top and bottom of his cock hard. He tries to run away from their canes so they cane his arse as well to stop him from flinching.
They think he deserves a hand caning too, just to make sure he can't jerk off that cheating meat of his! Then they trample him hard and heavy into the floor! He squirms at the intense weight of these Amazon Goddesses! They are too much for him to handle and they know it! But they won't stop trampling him just because it hurts him! In fact it only makes them trample him even more!
And as he suffers through it they bless him with their divine spit so he can endure even more. After all he is going to be visiting them for a very long time too. That's going to be their recommendation to his wife. And he's powerless to stop them!
Mehr anzeigen