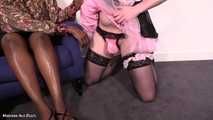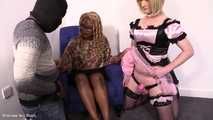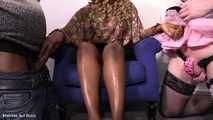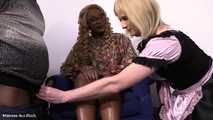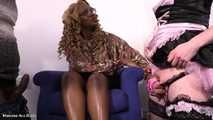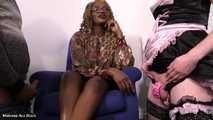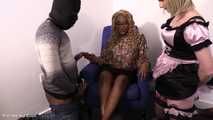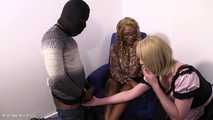 Your future as my chastity whore - Full clip
Includes Jessica Dee - interracial domination - sissy training - chastity - slut training - ebony female domination - female supremacy - handjobs - femdom - slave training - female domination
Featuring: Mistress Ava Black and Jessica Dee
Mistress calls in Jessica who has been in chastity for a while now. Her transformation into a sissy is going well and Mistress wants to inspect her costume and chastity device.
Mistress is very impressed that the device remains in place and marvels at how smooth she looks down there. Satisfied that she will remain in her new life as a sissy for good now, she explains that her servitude will now move on to the next level.
She wants Jessica to begin to learn how to please a man. For this purpose she has her Bull on hand to help teach her. Jessica must touch his cock and feel how weighty it feels in her hands. Then she must stroke it gently, teasing him with her newly learned gentle feminine touch.
Mistress wants her to begin to enjoy getting guys hot and horny. In fact Mistress wants her to begin enjoying turning guys on so much they want to stick their cocks in her mouth so she can suck them off.
It seems that such a long time in chastity has already begun to turn Jessica into a right slut. She's positively gagging for some good cock. Mistress wants to teach her to suck cock. But if she does Jessica might end up with spunk in her mouth. And if she does she'll have to swallow it all up!
Mistress wants her to show just how keen she is to get the Bull's cock inside her. So she makes Jessica present her sissy pussy and shake it all about. And after that she wants to see that chastity device humping impotently on Mistress's legs, edging Jessica deliciously as she rides the waves of orgasmic servitude!
Mehr anzeigen