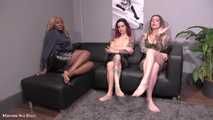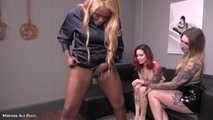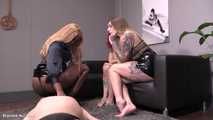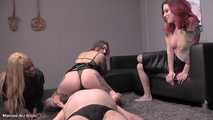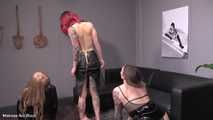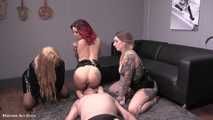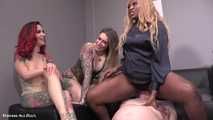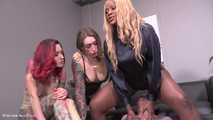 3 Dommes ride slave face - Full clip
Featuring: Mistress Ava Black, Mistress Adreena, and Ava Austen
These 3 lovely ladies are having a great time catching up together. The only thing that could make their day together better is to rule another hapless male for their amusement!
Luckily for them they always have one unlucky subject or another on hand to bounce up and down on! This slave gets to smell Mistress Ava's arse for a few intense breaths before she plants herself firmly on his face. Rocking back and forth and making sure he gets a good whiff of her scent.
Then Ava Austen wants a ride. She's been working on her twerking and the slave doesn't seem to have too much objection to her technique. Well, he can't breathe but then again no-one cares much about that really!
Mistress Adreena also wants to test out this slave's face. She lowers gently onto his face, delighting in letting him feel his bones slowly crushing under her weight. slave is gasping for breath but he can't deny his Goddesses their joy.
And when they move him to the couch so they can get better seated on his face he follows obediently. They take his breath away and they know it! And when Mistress Ava Black sits on his face again and grinds heavily into his face she definitely does take his breath away!
Now that they have him trapped between them the only way out is through the crushing humiliation of having his face ridden hard! They love grinding their pussies into his face, amused at how his nose is being crushed by their magnificent arses!
And after that crushing humiliation the slave has to thank them for using him like a toy!
Mehr anzeigen